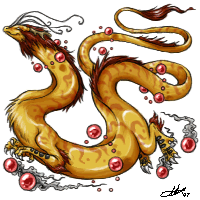 MALE.
XING YU.
5 MILLION YEARS OLD.
PURITY OF FORTUNATE WINDFALL.
"Yawwwwn.I pull myself up from my deep sleep. My brown mane curtains over my eyes, and I tilt my head back to remove them from my sight. Licking my lips, I gather my red orbs that then return to their places; hovering around me. A new day has started and I am ready to conquer any challenges pushed into my way. I slither my body out of the cloud that I had been resting on overnight. It was purely white and cushioned, and faded away as my body went throughout it. I glanced around me in a 360 degree turn. The skies up north looked dark, and the clouds showed spots of slow but heavy rainfall. I decided to travel in that direction to warn any residents below of the oncoming storm. As I float above the transparent air, I finally reach my destination. The air is thick, and temperatures are mixing. I dive through the grey clouds and land right on teared up dirty and rotten ground. I look around me; there is nobody here. Just rocks, vines, trees, and moss. Everywhere. No path or house or animal living here. I maneuver my body forward, and I slither around the rock mounds and knocked down foliage. Finally I had finished searching the whole island. The water surrounding the sudden land bulge became loud and tall. The waves crashed onto the island's edges. Closing in on the damp territory. I notice a semi-rectangular piece of wood resting face down on the soil. I order one of my red orbs to magically flip it upward. In a few seconds, the sign was flipped and I was already setting my eyes upon the carved in lettering. It read Welcome to Ereny, Where Everyone is Equal! Population: 397.No, Not 397. Well, at least not anymore. I sit down, and wrap my tail around a rock. I pick the boulder up and toss it aside into the raging ocean. Someone needed to start to clean this place up. And he needed to build a shelter for him to stay in. The storm was coming even closer now.